Healthcare Success Story - Streamlining Vendor Payments in Dynamics GP
First Atlantic Healthcare is a Long-Term Care and Health Services provider in Maine with 19 locations spread throughout the region. Their mission is to provide health services that improve their clients' lives.
Like many businesses, First Atlantic was forced to speed up its digitalization plans due to the COVID-19 pandemic, but the company's paper-based accounts payable process was creating frustration even before COVID-19.
"When COVID hit, we wanted as few people in the office as possible, but AP was finding they needed to be in the office or make frequent trips to the office," says Kim Bernard, Director of accounting at First Atlantic Healthcare. "Between the volume of invoices, status questions and remote work, we decided we needed to make the time to research paperless options."
Get the Complete Success Story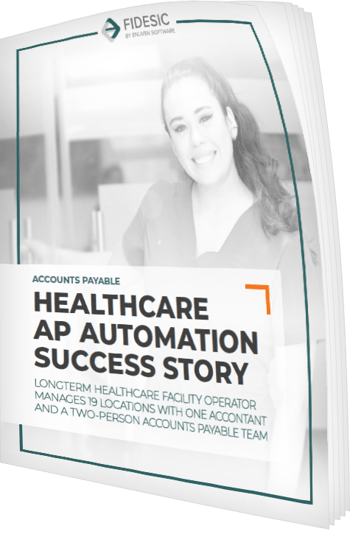 With an accelerated timeline, they began testing various solutions to meet the following needs.
Integration with Microsoft Dynamics GP and Binary Stream MEM
Multi-location Invoice Management
Location-based Routing and Approval
Paperless
Enable Remote Work
Measurable efficiency gains
After test driving Fidesic AP, First Atlantic knew they had found the right solution. Now the First Atlantic team can do more with less and work from home with fewer errors, fewer interruptions and less frustration. With less time and strain focused on accounts payable, the team is able to find more joy in their work.
"Without Fidesic, we would still be in paper format," says Bernard.