No Manual Data Entry
Fidesic's automatic invoice capture allows you to focus on more important tasks and inatives in your business. With an automation and electronic payments, you will no longer have to spend time stuffing and mailing invoices to your vendors.
---

Control and Visibility
Fidesic provides high level view of AP accounting with drill-down capabilities across locations and vendors, all from one centralized interface! Have complete control and visibility over your entire business with a user-friendly solution.
When you have centralized control across locations and entities, you are empowered to make the best decisions for your entire organization.
---

Remove Risk and Errors
With our reliable and secure data capture system, you can say goodbye to errors and say hello to faster processing times.
No longer having to deal with tedious task of correcting duplicate invoices and payments allows you and your staff to focus on higher value tasks. And, rest assured, you will also have full cloud backup of all transactions!
Trusted by Food and Beverage Organizations for Efficient and Reliable Accounts Payable Automation
"Since we began using the program, the number of paper invoices we receive has dropped dramatically and more vendors are sending invoices electronically. I really like how we have a central email address where all invoices can be sent and they just pop into my processing queue."
- Rachel T.
Accounting Manager at Great Plains Food Bank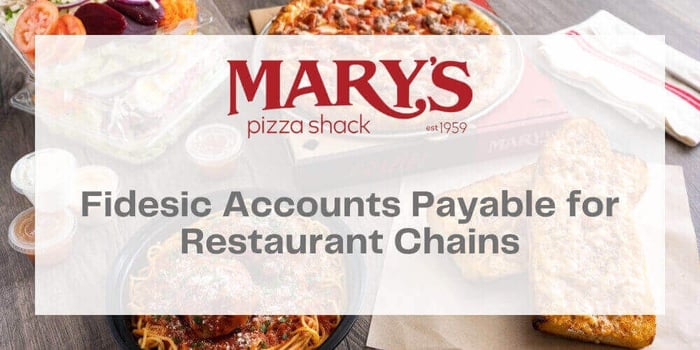 Case Stud

y
Fidesic Self Starter
With 18 locations and plans for continued growth, Mary's Pizza was in need of a solution to overcome the challenges that accompanied the business's accelerated growth. Their primary challenges included back office data entry and invoice management. These challenges would only become more difficult to overcome as they continued to add new restaurant entities.