Check Usage Dropping in B2B Payments & Why it Matters for GP and Business Central Users
A recent survey from the Association for Financial Professionals (AFP) showed that use of paper checks in B2B vendor payments is at an all-time low. Despite working in the Digital Era with most of us rarely picking up a checkbook for personal purchases, paper checks have been surprisingly resilient within vendor payments. But their end is approaching faster each year.
The use of checks for B2B payments has fallen 40% since 2004 and dropped 9% in the last three years alone according to AFP research. ACH payments are on the rise.
Related: How to Convince Vendors to Accept ACH Payments
With the rapid adoption of remote work during the pandemic quarantine, ACH and other digital payment forms saw a major demand increase. But according to AFP, the rapid shift to digital payments is driven by a desire for faster, more real-time payment options.
About 54% of survey respondents said speed is their primary driver when choosing a payment method. 62% said that B2B transactions will benefit the most from faster, more real-time payments.
While 26% of businesses still use paper checks, almost 40% have moved to ACH payments.
Related: Are ACH Payments Safe?
"In the face of wide-ranging disruptions around the world, financial professionals continue to improve their payments processes and become more nimble in response," said Jim Kaitz, president and chief executive of AFP. "Given that digital payment methods are more efficient and have a much lower risk for fraud, it is encouraging to see that digital payments are on the rise."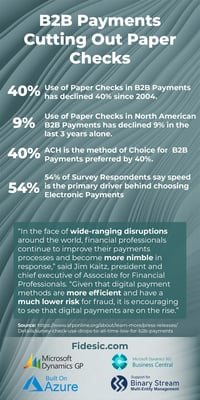 Open Infographic
Electronic Payments Challenges in Dynamics GP and D365 Business Central
Getting ACH payments set up to post automatically to your General Ledger is tricky for Microsoft Dynamics GP and Business Central users. While both products support ACH vendor payments, there are several steps required to get it done, and getting it set up to post to the General Ledger requires some workarounds and manual processes.
You may first have to contact your bank to obtain the proper ACH format. An ACH data transfer in both GP and Business Central BC rely on a specific format that a bank will issue to your company. While there is a standard format issued by the Corporate Trade Exchange (CTE), banks often require a slightly modified format. Once these formats are obtained, vendor accounts and Dynamics checkbooks have to be configured to integrate with the bank's format. And that is just getting each vendor and their bank set up. Getting each payment to actually post is another process.
Dynamics GP:

Here is a thread on Dynamics Communities to help you get it done manually Click Here

Business Central:

Here is a post from Dynamics VAR Velosio's website to process ACH manually in BC Click Here
Automated Approach
As a company's number of locations, bank accounts and vendors grow, paying by ACH manually out of either solution is going to be untenable. In situations where organizations are consolidating accounting across entities and locations from a centralized office, an automation solution basically becomes a necessity and doing it the old fashioned way is not sustainable for a small, centralized accounting team.
The good news is, there are plenty of benefits that come with automating your accounts payable process--cost savings, time savings, better work-life balance and more. If you don't have vendor payment automation, or if your current solution doesn't make ACH payments easy, it may be time to switch.
Ready to Streamline Vendor Payments for GP or BC. Fidesic Self-Service Vendor Portal and AP automation solution make it easy, secure and reliable.