Connecting Long-Term Care Locations in a Remote Work World
See how one multi-location long-term care provider was able to scale it's accounting department as the organization grew and expanded.
"Resident care is the top priority for long-term care providers like First Atlantic, so back office efficiency is hugely important in allowing us to focus on that core mission. Fidesic and Binary Stream MEM have been a key piece in that puzzle for us."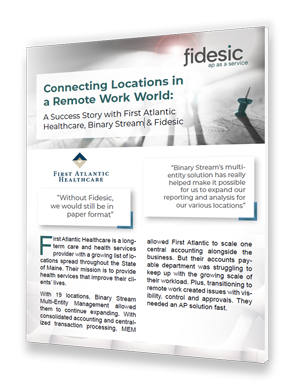 Read Now
"Binary Stream's multi-entity solution has really helped make it possible for us to expand our reporting and analysis for our various locations"
First Atlantic Healthcare is a Long-Term Care and Health Services provider with a growing list of locations spread throughout the State of Maine. Their mission is to provide health services that improve their clients' lives.
With 19 locations, Binary Stream Multi-Entity Management allowed them to continue expanding. With consolidated accounting and centralized transaction processing, MEM allowed First Atlantic to scale one central accounting alongside the business. But their accounts payable department was struggling to keep up with the growing scale of their workload. Plus, transitioning to remote work created issues with visibility, control and approvals. They needed an AP solution fast.