Microsoft Dynamics GP End Of Life? Not Anytime Soon- Modern Lifecycle & End of Updates
Microsoft adopted a cloud-first model several years ago. Since then, they have released a barrage of new cloud products from collaboration and productivity suites like Teams and Office 365, to enterprise resource management like their Dynamics 365 offerings. With this major change, customers and partners have been wondering how long they can expect Microsoft Dynamics GP to be available.
While Microsoft has plans to continue supporting GP for many years to come, there will no longer be new features updates (Learn more below). The following roadmap shows when support will stop for older versions of GP while up-to-date users will now be on the Microsoft Modern Lifecycle.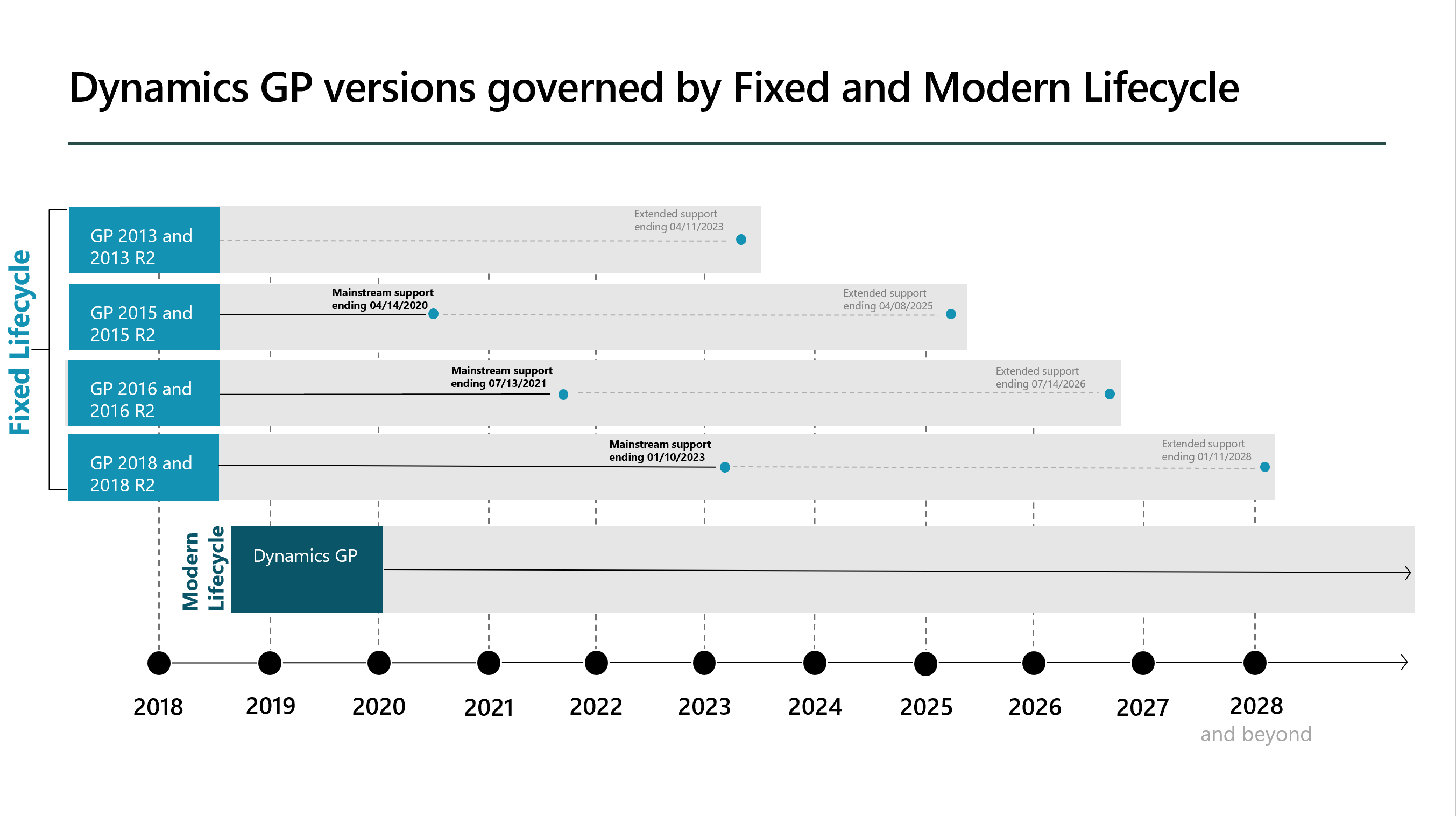 Extend Dynamics GP lifetime value. Check it out: Video demo of Fidesic AP for GP »
Microsoft GP End of Life?
Microsoft told Community Summit North America 2022 conference-goers that the latest October 2022 release of GP 18.5 will be the last major features update. Despite this news, Microsoft has told the community that GP will continue to receive regulatory, tax and security and functionality updates, and Microsoft is committed to continuing support for GP. See Summit NA 2022 Highlights to learn more.
During the Dynamics GP General Session at Summit, Microsoft announced the new features in the release of GP 18.5. These include:
Account category lookup options
Warnings and tools to manage inactive vendor address records
Ability to print 1099-NEC forms
New cash receipts option in transaction entries
Workflow option for "no approvals needed
Modern Lifecycle and the Future of GP through 2028 and Beyond
Watch the video below to find out more about the future of Dynamics GP or read on.
In this video you will learn what Microsoft has said about the future of GP, What a Modern Update Cycle Means for You, Importance of have a 'Cloud ERP,' Where GP Excels & Where GP is Lacking.
Starting out as the stalwart Great Plains accounting software and later acquired by Microsoft as Dynamics GP, GP has been a go-to ERP solution for growing businesses and that doesn't seem to be changing according to Microsoft's latest roadmap.
What is GP Modern Lifecycle and the latest info from Microsoft:
Since the October 2019 release, GP has been on the Modern Lifecycle services which means the version names are no longer being used. Any version released after GP 2018 is simply known as Dynamics GP. This doesn't mean there won't be new versions of Dynamics GP, but they just won't have public facing names or 'vintages' like "GP 2018 R2" any longer.

If you are on an older version of Dynamics GP, like GP 2013 R2, support has been extended. See the chart above to find out how long you can expect support.

There will be three GP updates per year, including tax updates, new features, and a year-end update. Users only need to update once per year to stay current.

All updates will contain bug fixes.
Microsoft Dynamics GP is among Microsoft's most resilient products. Known for its agility and adaptability, it will likely remain a favorite solution for many years to come.
Most Microsoft Partners who have been delivering Dynamics GP for years believe in the product and they plan to deliver services around GP as long as it is available.
If you are a Microsoft Dynamics GP user or would like to be, you can learn more about updates and news concerning Dynamics GP by connecting with the following Microsoft Dynamics Partners who are committed to continued services around GP.
Microsoft Dynamics GP Partners
Aim Technologies - AIM Technologies is a Microsoft Silver and Acumatica Silver Certified Partner with proven expertise in ERP and CRM solutions. AIM Technologies team members have provided software consulting and implementation services for many different software solutions and in many environments for more than 20 years. http://www.aim-technologies.com/
The Anchor Group - The Anchor Group is a Texas-based Microsoft Dynamics GP Partner focused on implementation, integration, support, training and data conversion. They are committed to empowering businesses to be more productive and enable systems to adapt as their customers' grow, delivering the insight needed to respond quickly in an ever-changing world. http://www.anchorgrp.com/
Binary Stream - For 20 years, they've been helping organizations simplify processes with scalable software solutions for ERP. They are a Microsoft Gold Certified ISV, and their software is built to handle everything from subscription billing automation to property lease management. https://binarystream.com/
Encore - Encore has been driving efficiency and sustainable success for businesses across North America since 1990. They offer award-winning solutions and strategic services. More than 100 experienced business and technology professionals implement, train, support, and advise customers on the whole range of Microsoft business solutions. https://www.encorebusiness.com/
Informed Systems - Informed Systems, Inc. (ISI) is a premier ERP solution provider headquartered outside of Philadelphia and serving small to mid-sized businesses in the mid-Atlantic region. Founded in 1995 by Rick and Judy DeLello, they resell best-in-class solutions and provide implementation, support and advisory services to help customers optimize their financial performance. From planning and purchasing software to re-engineering your business processes, they do it all. https://www.isisupport.com/
MIG - MIG & Co. specializes in implementing and supporting industry leading financial and business software that offer the lowest total cost of ownership. Since 1998, MIG's passion is to empower organizations to automate business processes and maximize productivity. https://www.mig.com/
Njevity - Njevity, Inc., is a Denver-based provider of Cloud and On Premises Accounting and Customer Relationship Management solutions to mid-market customers all over the world since 2001. Njevity is a Gold Certified Microsoft Partner and a Tier-1 Cloud Service Provider that has earned competencies in Dynamics ERP, Dynamics CRM, and Cloud Technologies. https://www.njevity.com/
Strategic Systems Group - SSG has been a leading enterprise resource planning (ERP) application and information systems consulting firm since 1991, and began as a group of partners that provided custom software development solutions to improve the functionality of ERP software systems utilized by manufacturing and distribution companies. https://ssgnet.com/