End of GP Features Updates, Dynamics GP 18.5 New Features - Summit NA Highlights
It has been great to be back face-to-face with the Community. It was great to meet up with old friends, see new faces and learn a lot with a well-packed agenda. Below are some of the major highlights.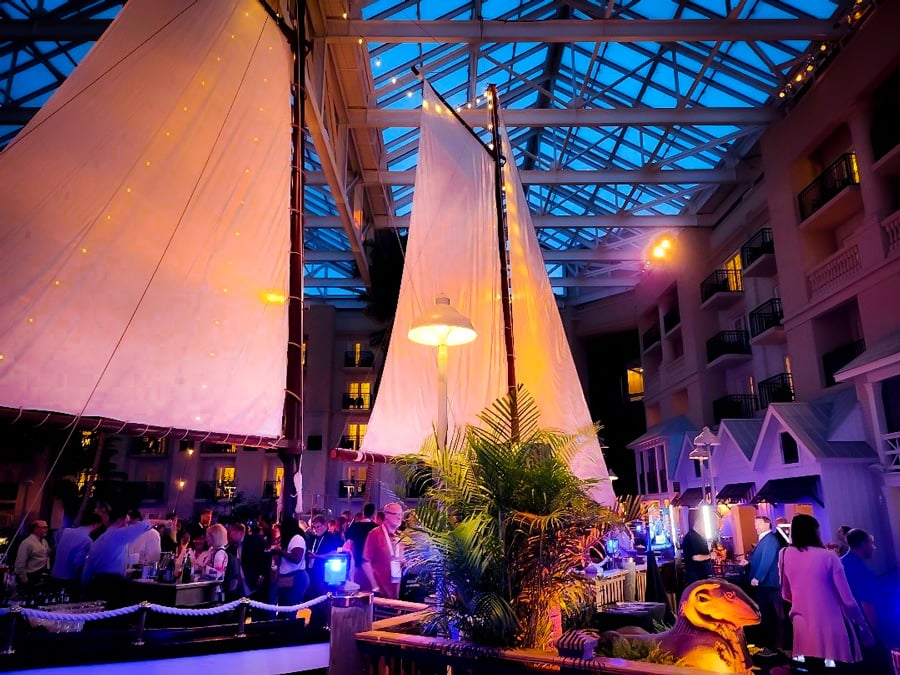 Binary Stream party after a long day on the expo floor.
Microsoft Dynamics GP Last Features Update Ever?
Microsoft's D365 VP Michael Morton told Community Summit North America conference-goers that the latest October 2022 release of Microsoft Dynamics GP 18.5 will be GP's last major features update version, raising concerns among the community of Dynamics resellers. Despite this news, Microsoft has assured the community that the stalwart Great Plains ERP will continue to receive regulatory, tax and security updates. Microsoft reps said the company remains committed to supporting GP. Learn more about the Dynamics GP Roadmap »
Morton later made this statement on social media: "If you are an existing GP customer, you can be confident in using Dynamics GP to run your business for years to come. New releases will contain regulatory (tax), security updates, and hotfixes, ensuring GP remains up to date. New releases will also include updates in usability, reliability, addressing top customer issues, and other areas that are critical in ensuring businesses run successfully on GP. At the Summit we did make a statement about 'new features'. This intent was to share that we do not expect significant new capabilities in Dynamics GP, such as new modules. Microsoft's major investments and innovations will be in other Dynamics 365 offerings. The GP ISV (Independent Software Vendors) ecosystem has always been strong and will continue releasing new add-ons that extend core Dynamics GP."
Get more value out of Dynamics GP. Check it out: Video demo of Fidesic AP for GP »
During the conference, Microsoft's Sr. Escalation Engineer Terry Heley also showcased the new features in the release of GP 18.5. These include:
Account category lookup options
Warnings and tools to manage inactive vendor address records
Ability to print 1099-NEC forms
New cash receipts option in transaction entries
Workflow option for "no approvals needed"
The Microsoft Dynamics GP General Session also recognized GP All-Stars and leaders from Microsoft and the Dynamics Community.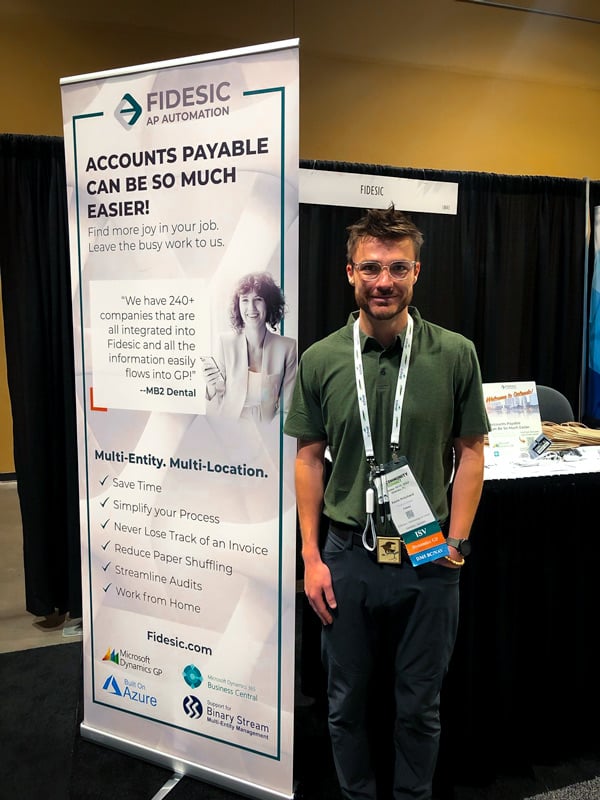 Check us out on the expo floor, our Product Owner Kevin Pritchard holding down the booth. Photo Courtesy of Anya Cierciersky and ERP Software Blog.
Fidesic AP for Dynamics 365 Business Central
We officially launched and announced our release of Fidesic Accounts Payable Automation for Microsoft Dynamics 365 Business Central at Summit. Whether new to Dynamics or existing GP user with plans to move to Business Central, you can automate your accounts payable with ease for now and the future. Learn more about Accounts Payable Automation for Business Central.
Experiences & Keynotes
The Women in Technology experience was designed to inspire working women to successfully "fail forward" to avoid "crash & burn" while dealing with gender equality within business and technology. It included a keynote from Gayle Keller with support from Christine Bongard on "Sustainable Empowerment: Taking Calculated Risks in Your Career". Plus, real-world, practical, and inspiring discussions with Ann D'Emilio of Vertex, Jennifer Harris of TMC, Cathy Richards-Ingram of Avalara.
The keynote from business growth consultant and speaker Jeff Havens was called, "Uncrapify Your Future!" He discussed a three-step process every innovation throughout human history has followed – and the "one and only barrier" to innovative thought, and how to overcome it.
Best selling author of "Courage is Calling," Ryan Holiday's keynote "Coping with Complexity: The Strategy to Deliver Results in the Face of Obstacles," offered advice for facing personal or business complexity to develop a strategy to arrive stronger and more resilient on the other side of obstacles.
Dynamic Communities Online Platform - CEO John Siefert announced the soft launch of Dynamic Communities online community platform, providing members a chance to to ask questions, offer advice, and solve everyday challenges running a business with Dynamics ERP and related tools.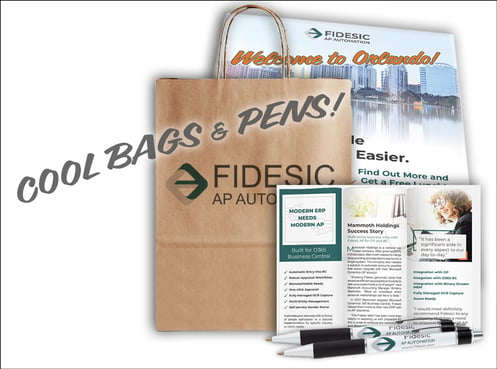 Check out our cool conference schwag we had fun handing out.
Session Highlights - Dynamics GP & Business Central
Here are just a few of the many great learning experiences of which there were too many to mention in one blog post.
Smooth Operations - Tips and Tricks for Dynamics GP Year End Close: Discussion of the proper order and timing considerations for closing the General Ledger, Accounts Payable, Accounts Receivable and Fixed Assets modules, along with a demo of the Close Routines for each.
Dynamics GP Rocks! How to optimize Microsoft Dynamics GP: GP users want to know if they can "kick that can down the road" and make a plan to optimize, enhance and extend their existing GP application. There are lots of options.
Every Little Difference between Dynamics GP and Business Central, Part 1and 2: If you are considering an eventual move to Business Central from GP, this session series was great, highlighting specific system differences so that you are prepared for an eventual transition to Business Central.
Dynamics GP to Business Central: Make Your Move Easy with Microsoft's Enhanced Migration Tool: See how the enhanced migration tool makes your move to Business Central easier than ever before.
eOne Solutions Sessions: eOne Solutions held several sessions covering everything from REST Web Services for Business Central, Power BI for GP and BC, Business Central Integrations, making the most of Dynamics GP data, using GP and CRM together and more.
Power BI: It's Not Just for Data Nerds: This session was all about Power BI and how to access your Dynamics 365 Business Central data, including how to build basic reports and dashboards and have fun while doing it!
Ask us anything about Microsoft Dynamics GP Development: A free format AMA (Ask Me Anything) session where you can have open discussion about Microsoft Dynamics GP customization development with experienced developer David Musgrave as well as fellow audience members.
Dynamics GP User to Superhero: Amber Bell from Training Dynamo shared some of her favorite tips and tricks for Microsoft Dynamics GP!
Business Central LifeHacks - Tips and Tricks for the End User that Will Save You Time!: LifeHacks designed for the end user to save time and be more efficient. Highlighted better ways to get the job done and show off your new BC skills back at the office, covering everything from navigation through reporting.
I Went Live on Business Central... Now What?: The session began with surviving your first month end and first bank reconciliation, then moved on to discuss SaaS upgrades and post-go-live best practices.
50 Tips in 50 Minutes for Business Central – Finance Edition: There are so many small things you can do to make using Business Central easier. This session offered examples demonstrated live in Business Central.