Get the Green Light: For AP Automation
Win Executive Support for Your AP Automation Project
You know you can increase the power of the AP department with automation, but you just have to convince company stakeholders. This toolkit is designed to help you do just that.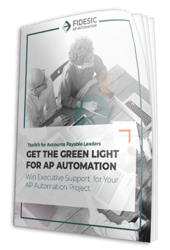 Toolkit for Accounts Payable Professionals
In this booklet we are going to help you prove your case to your organization so you can move your automation project forward. It's time to simplify your job and find more joy in work.
---
What's Inside?
Why Companies Resist AP Automation
Pain Points, Scoping & ROI

Predicting & Pitching Cost Saving Potential
Key Factors for Calculating Cost Per Invoice
Measuring ROI Beyond Financial Value

Pitch to Your Audience
Comparing AP Automation Solutions
Schedule a Live Demo & Test Drive
Conclusion: AP Automation is a No-Brainer
Companies that process invoices manually in paper-format tend to spend more than $10 per invoice, while companies that have little to no manual steps in their AP process spend $2 or less per invoice, according to data from the American Productivity & Quality Center. That means if you have not automated your payments process, you could potentially reduce your AP overhead by 80%.