Accounts Payable Automation for Dynamics 365 Business Central
Fidesic is a unique and end-to-end extension of Dynamics 365 Business Central Accounts Payable processing. Fidesic AP provides an anytime, anywhere approval workflow for your approvers and accounting staff. Import invoices directly into Business Central without any additional data entry and then pick what you want to pay right out of Business Central.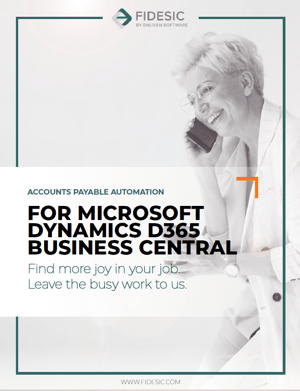 Fidesic's Business Central integration gives you access to features no other solutions can offer. Zero data entry imports, vendor management and ACH payment support. Reduce the cost of approving invoices and processing payments for Dynamics Business Central.
Fidesic continuously strives to provide users with the most reliable, efficient and easy-to-use accounts payable (AP) automation solution for Dynamics Business Central. We believe that by simplifying your invoice processing with a modernized, high-visibility and secure platform, you can focus on strategic organizational goals and build a job you love.
Discover how Fidesic can enable your organization to achieve great results with our accounts payable automation designed specially for those who currently utilize Microsoft Dynamics Business Central.