Vendors Check Invoice Status. Reduce Calls, Improve Vendor Experience

Vendors Submit Invoices Directly. No Document Scan Necessary.

Customizable with Your Branding & Your Logo

Vendors Maintain their Own Banking Info. Reduce Risk to your business.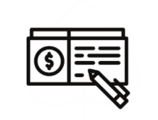 Pay Your Vendors Electronically

Integrated with Microsoft Dynamics GP & Business Central
"As a vendor who is getting paid through Fidesic, they are wonderful to work with. They provide exceptional communication and are very responsive with questions. Setting up electronic ACH payment was simple and fast."
- Administrator in Computer Software

Renae B.
April 28, 2020

Sarah S.
Jan 29, 2021

Tierney W.
June 12, 2020

Dick S.
March 19th, 2021

Rachel T.
July 22nd, 2021

Jennifer N.
May 5, 2020